Cooking and baking are not only essential life skills but also a fun and enjoyable activity that can bring people together. Whether you are a beginner or an experienced cook, having the right kitchen tools can make a significant difference in the outcome of your dishes. With so many options available, it can be overwhelming to figure out what kitchen essentials are necessary, especially in India, where there is a diverse range of cuisines and cooking methods.
In this article, we'll provide you with a comprehensive list of must-have kitchen tools for cooking and baking in India. From basic tools like knives and cutting boards to specialized gadgets like electric mixers and baking sheets, we've got you covered.
Chef's Knife
A versatile knife used for chopping, slicing, and dicing vegetables, fruits, and meat. A good quality chef's knife can make your kitchen tasks much easier and efficient.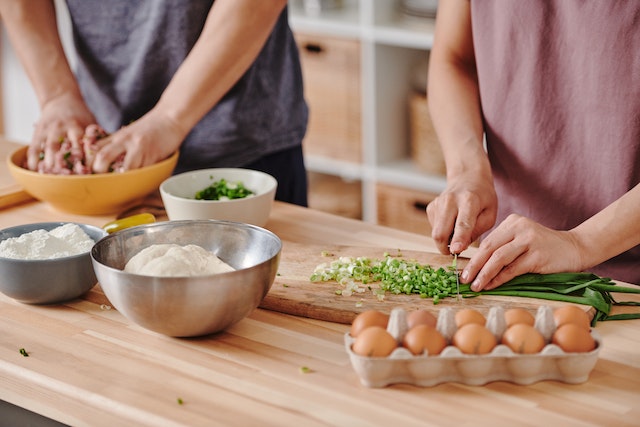 Uses in the kitchen:
Cutting meat, poultry, and fish
Slicing and dicing vegetables
Mincing herbs and garlic
Chopping nuts
Crushing garlic cloves
Paring Knife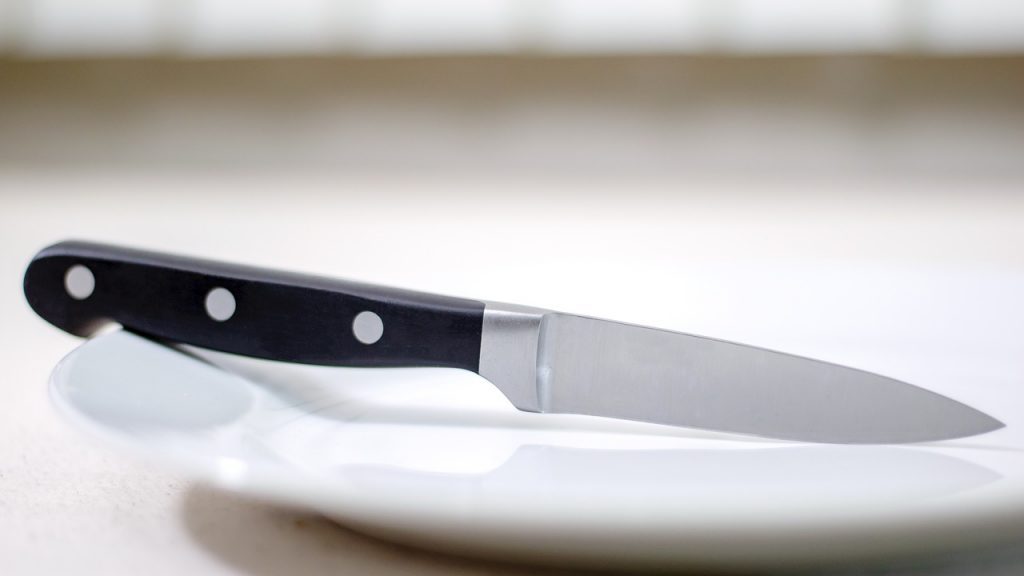 A small knife used for peeling and slicing fruits and vegetables. It is also useful for detailed work such as deveining shrimp or removing seeds from fruits and vegetables.
Uses in the kitchen:
Peeling fruits and vegetables
Slicing fruits and vegetables
Trimming and cutting small items like garlic or ginger
Removing seeds or cores from fruits and vegetables
Deveining shrimp or trimming meats
Bread Knife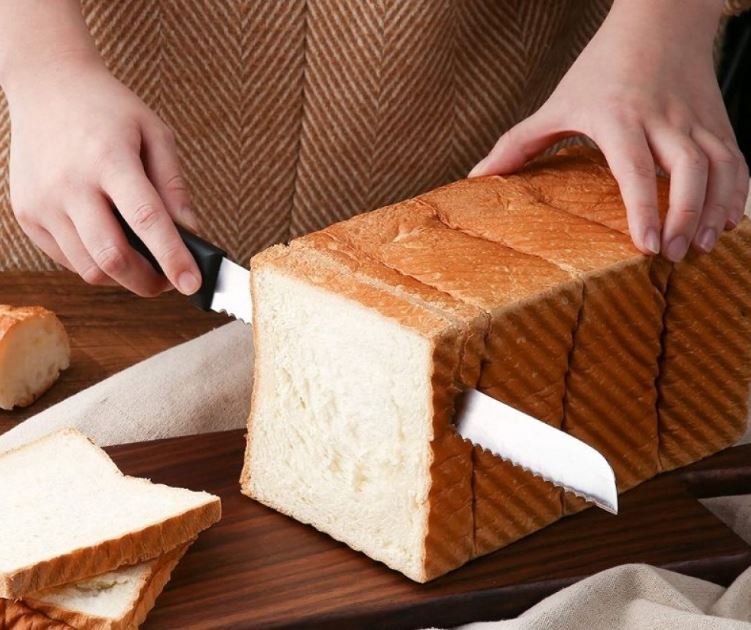 A serrated knife used for slicing bread without crushing it. The serrated edge allows the knife to cut through the crust of the bread without flattening it.
Uses in the kitchen:
Slicing bread and bagels
Cutting through soft fruits with tough skins, like tomatoes
Slicing cakes and other baked goods with delicate layers
Cutting sandwiches and other layered foods
Cutting melons and other large fruits with tough exteriors
Kitchen Scissors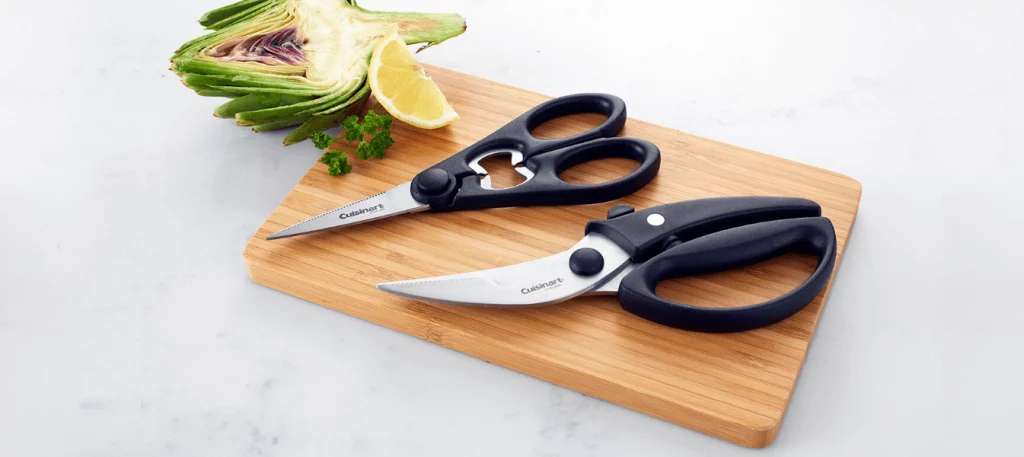 Scissors used for cutting meat, herbs, and vegetables. Kitchen scissors are sturdier than regular scissors and often come with a serrated edge for easier cutting.
Uses in the kitchen:
Cutting meat and poultry into pieces
Trimming fat and gristle from meat
Cutting herbs and vegetables
Opening packages and bags
Cutting pizza and other foods
Cutting Board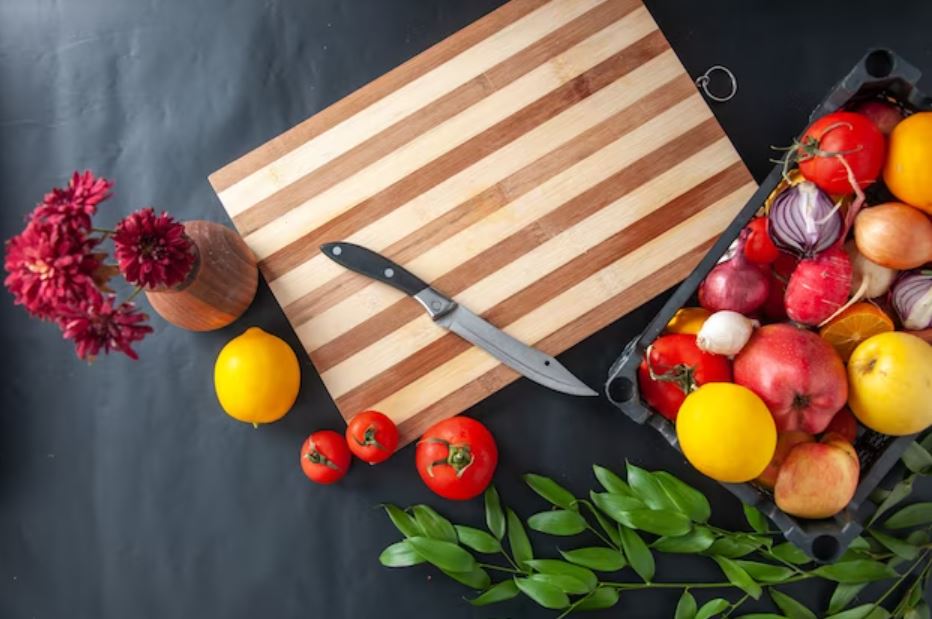 A surface for chopping ingredients without damaging the countertop or knife. Cutting boards come in different materials such as wood, plastic, and bamboo.
Uses in the kitchen:
Chopping fruits, vegetables, and meats
Slicing bread and other baked goods
Rolling out dough for baking
Carving roasts and other large cuts of meat
Prepping ingredients for cooking and baking
Measuring Cups and Spoons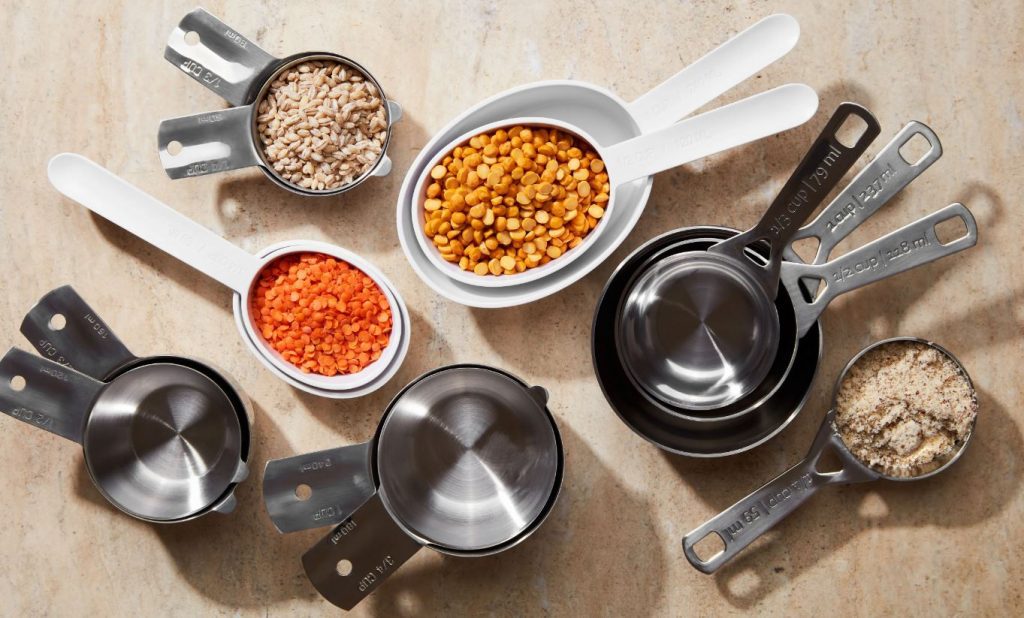 Measuring cups and spoons are essential tools for precise cooking and baking. They come in sets with various sizes for measuring liquid and dry ingredients accurately. Measuring cups are used for liquids such as milk and water, while spoons are used for small amounts of dry ingredients such as sugar, salt, and baking powder. Make sure to level off the ingredients with a knife or a straight edge for precise measurements.
Uses in the Kitchen:
– Measuring ingredients for recipes – Ensuring accurate proportions for baking – Creating consistent flavors in dishes – Adjusting seasoning to taste – Making homemade salad dressings and marinades
Mixing Bowls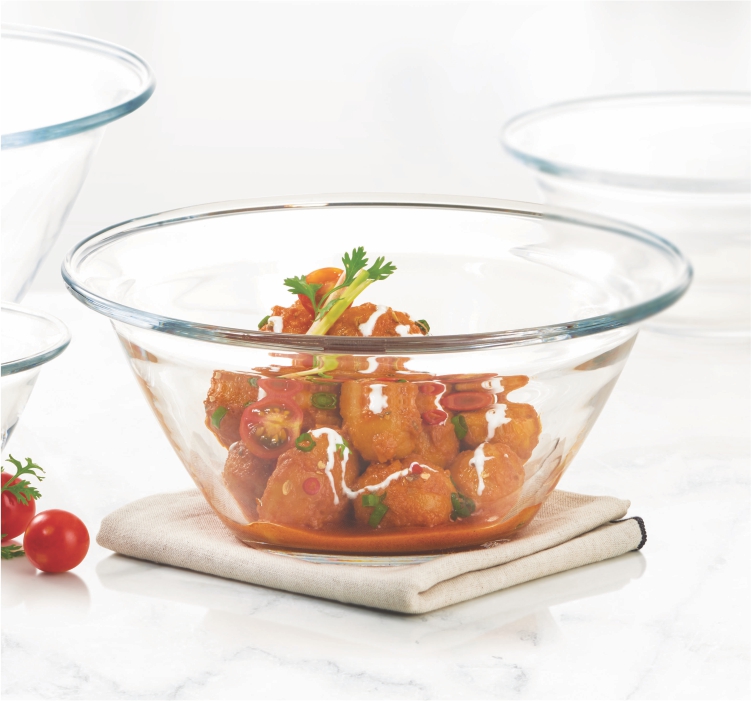 Mixing bowls are used for combining ingredients together for recipes. They come in various sizes and materials such as glass, stainless steel, and plastic. Glass bowls are heat-resistant and ideal for mixing hot ingredients, while stainless steel bowls are durable and easy to clean. Plastic bowls are lightweight and perfect for outdoor cooking and picnics.
Uses in the Kitchen:
– Mixing cake batters and cookie dough – Tossing salads and pasta dishes – Marinating meat and poultry – Proofing bread dough – Whisking eggs and cream for custards and desserts
Electric Mixer or Whisk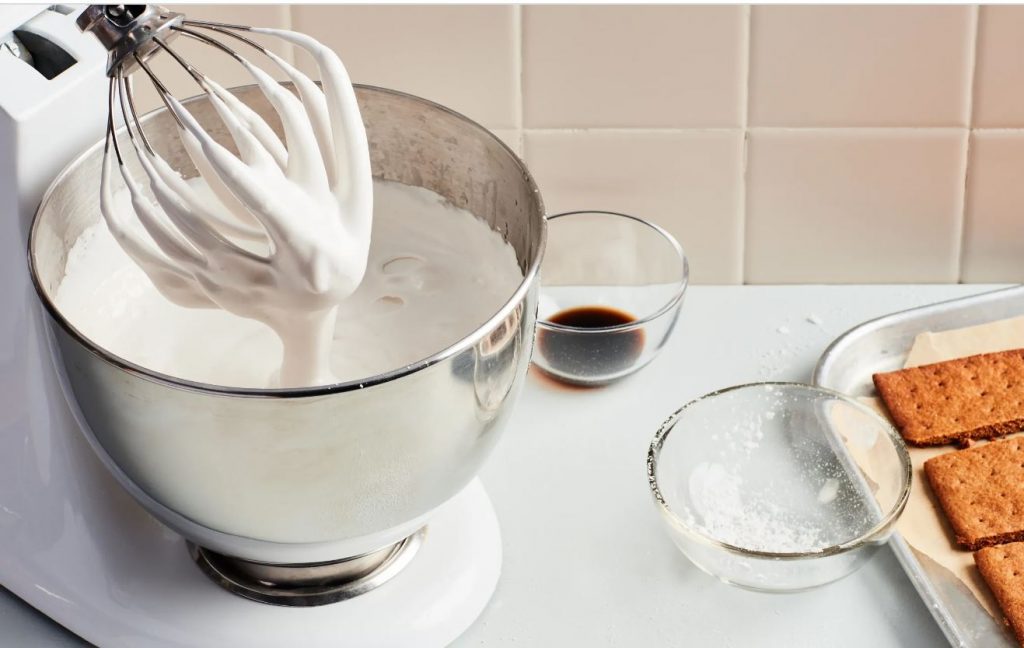 An electric mixer or whisk is a handy tool for mixing and whipping ingredients quickly and efficiently. It comes in various types such as hand-held mixers, stand mixers, and immersion blenders. Hand-held mixers are great for small batches and easy to store, while stand mixers are ideal for large batches and heavy-duty mixing. Immersion blenders are perfect for making soups and purees directly in the pot.
Uses in the Kitchen:
– Mixing cake batters and cookie dough – Whipping cream and egg whites – Making homemade mayonnaise and salad dressings – Pureeing soups and sauces – Chopping nuts and herbs with a mini chopper attachment
Sieve
A sieve is used for sifting dry ingredients such as flour, sugar, and cocoa powder to remove any lumps and aerate the mixture. It also helps to evenly distribute the ingredients and ensures a smooth and consistent texture in your baked goods. Sieves come in various sizes and materials such as metal and nylon. Metal sieves are more durable and suitable for sifting larger quantities, while nylon sieves are more flexible and easier to clean.
Uses in the Kitchen:
– Sifting flour for baking cakes and bread – Separating solids from liquids such as straining broth or tea – Dusting powdered sugar or cocoa powder on desserts – Sprinkling spices on dishes – Making homemade nut
Saucepan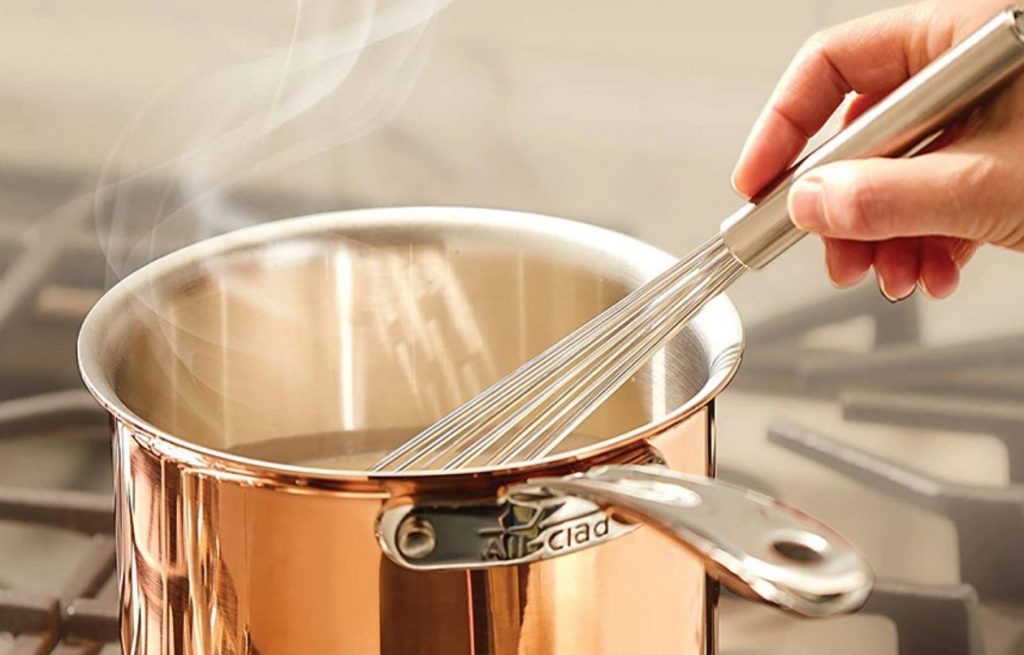 A saucepan is a round-bottomed pot with a long handle and a lid that is used for boiling, simmering, or making sauces. It is a staple in any kitchen and is ideal for cooking pasta, rice, soups, and stews.
Uses:
Boiling pasta and rice Making soups and stews Cooking beans and lentils Preparing sauces, such as tomato sauce and gravy Steaming vegetables
Dutch Oven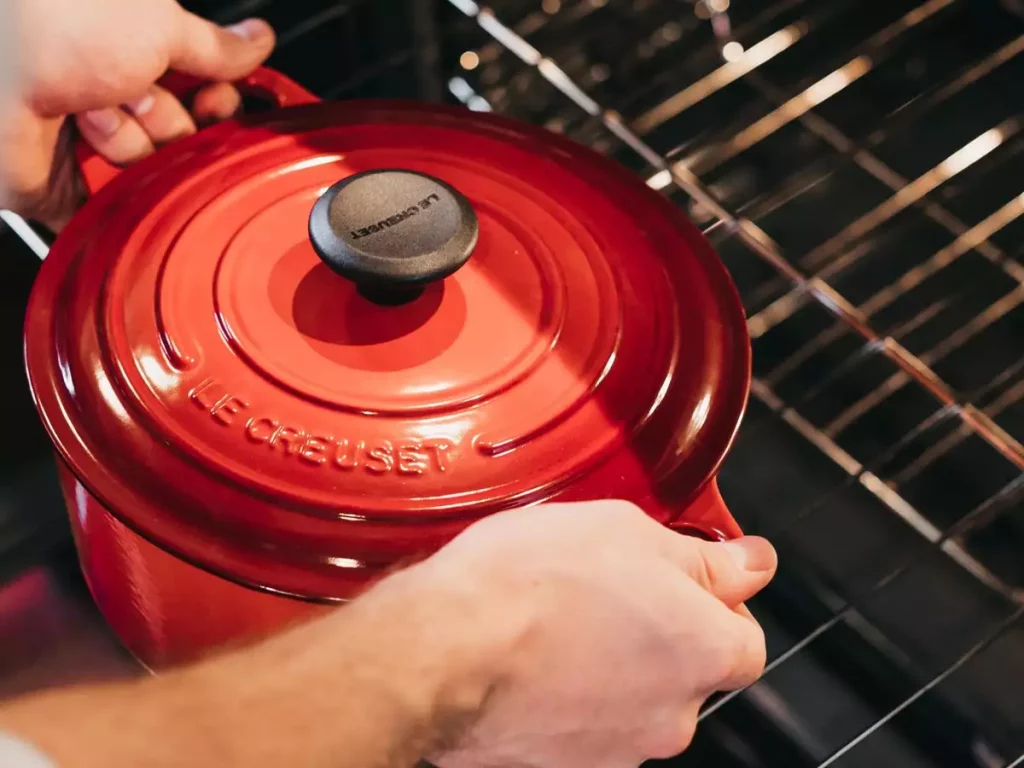 A Dutch oven is a large, heavy pot with a tight-fitting lid that is used for stews, soups, and slow-cooking dishes. It is made of cast iron or enamel and can be used on the stovetop or in the oven.
Uses:
Making stews and soups Slow-cooking meats, such as beef and pork Baking bread and other baked goods Roasting vegetables and meats in the oven Making casseroles and one-pot meals.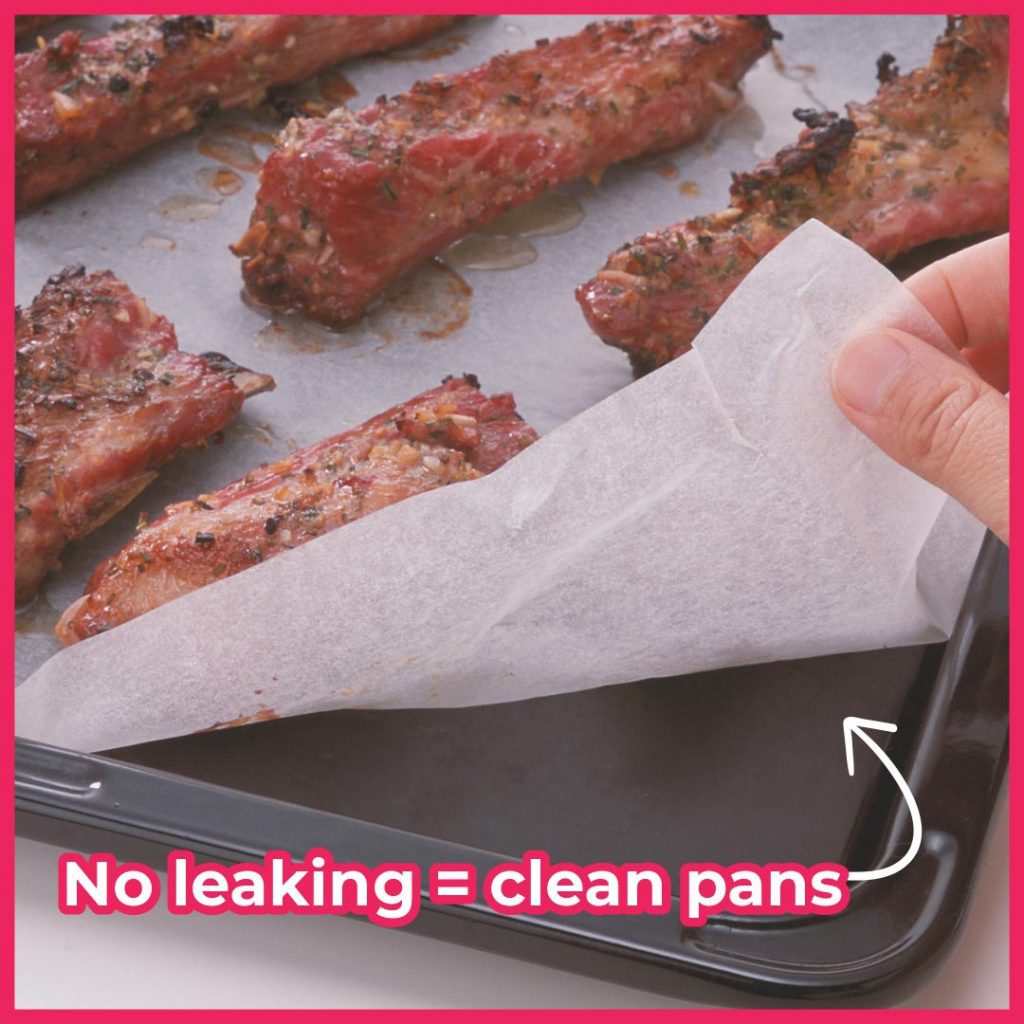 A baking sheet is a flat, rectangular pan that is used for baking cookies, bread, and other baked goods. It is usually made of metal and can come in various sizes.
Asahi Kasei Cooking sheet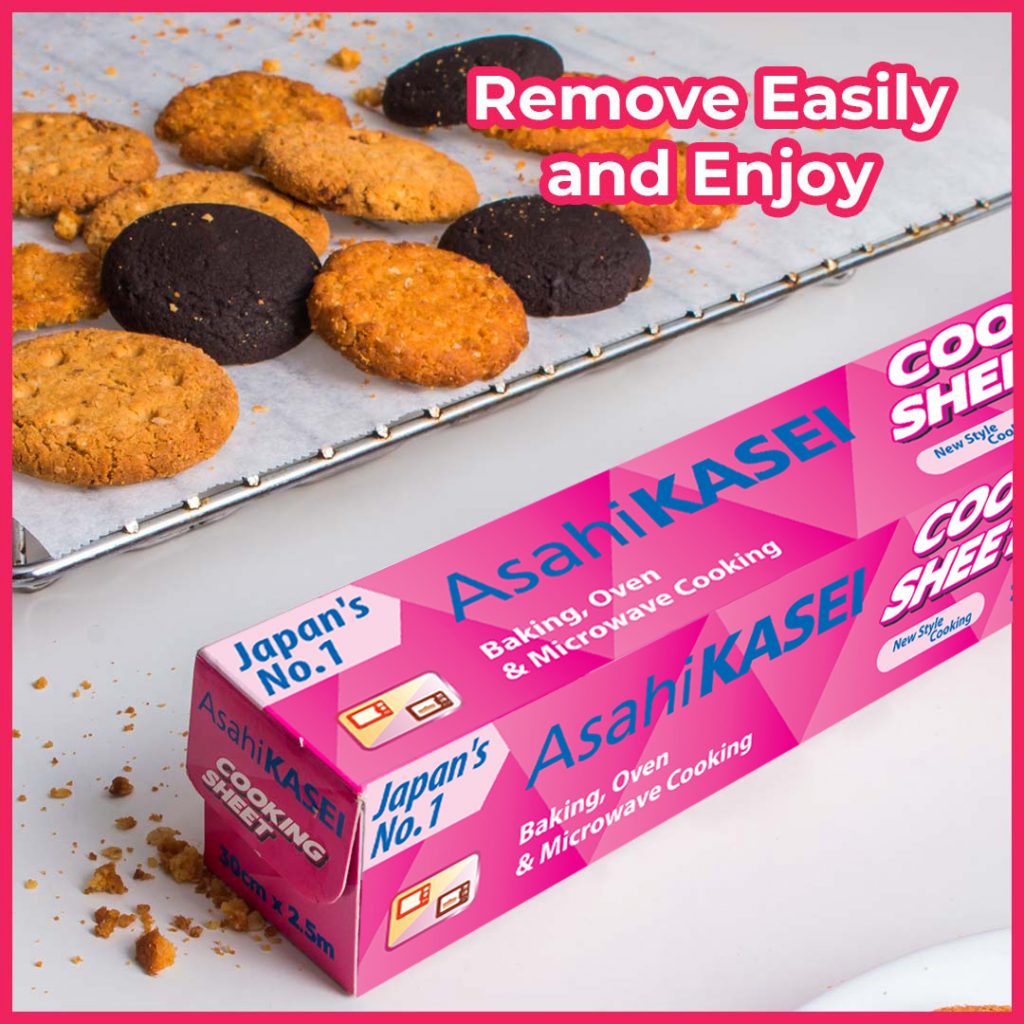 Asahi Kasei Cooking sheet is a baking sheet with Silicone coating on both sides that prevents food from sticking and allows you to bake without making a mess. Its excellent quality prevents crumbling while baking and allows you to bake at temperatures up to 250°F for 20 minutes. Simply place the sheet on the oven's tray or pan. Whether you're making cookies, biscuits, croissants, or cakes, the Asahi Kasei Cooking Sheet is the ideal companion for all your baking requirements.
Cook and reheat delicious and appetizing dishes at home using the convenience of your microwave oven. Simply place the sheet over the baking tray/pan and remove it after use to keep your tools clean and ready to use.
Uses:
Baking cookies, cakes, and pastries Roasting vegetables and meats in the oven Making pizzas and flatbreads Toasting nuts and seeds Reheating leftovers in the oven
Muffin Tin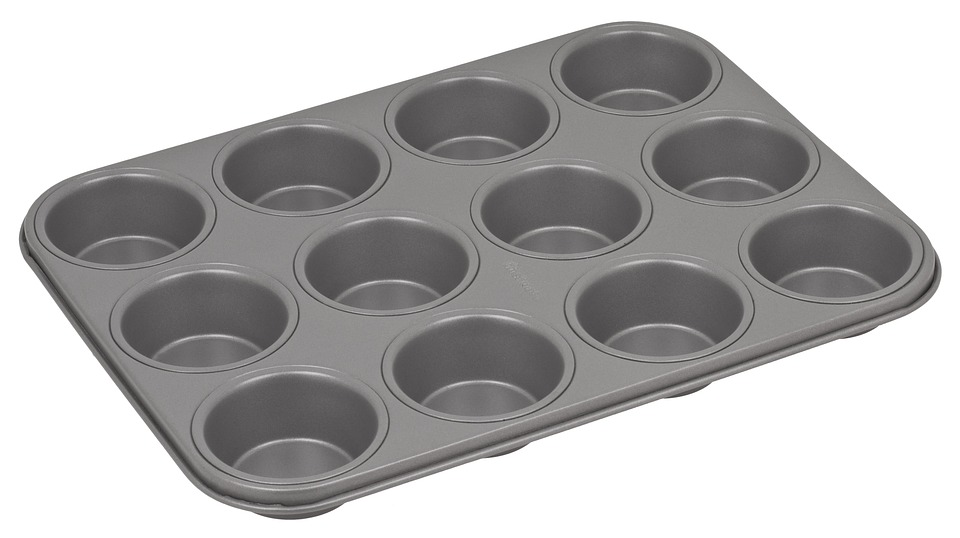 A muffin tin is a baking pan with multiple cups that is used for making muffins, cupcakes, and mini quiches. It can be made of metal, silicone, or other materials.
Uses:
Making muffins and cupcakes Baking mini quiches and frittatas Creating individual servings of desserts, such as cheesecake and pudding Making frozen treats, such as ice cream sandwiches and popsicles Using as a mold for chocolate or candy-making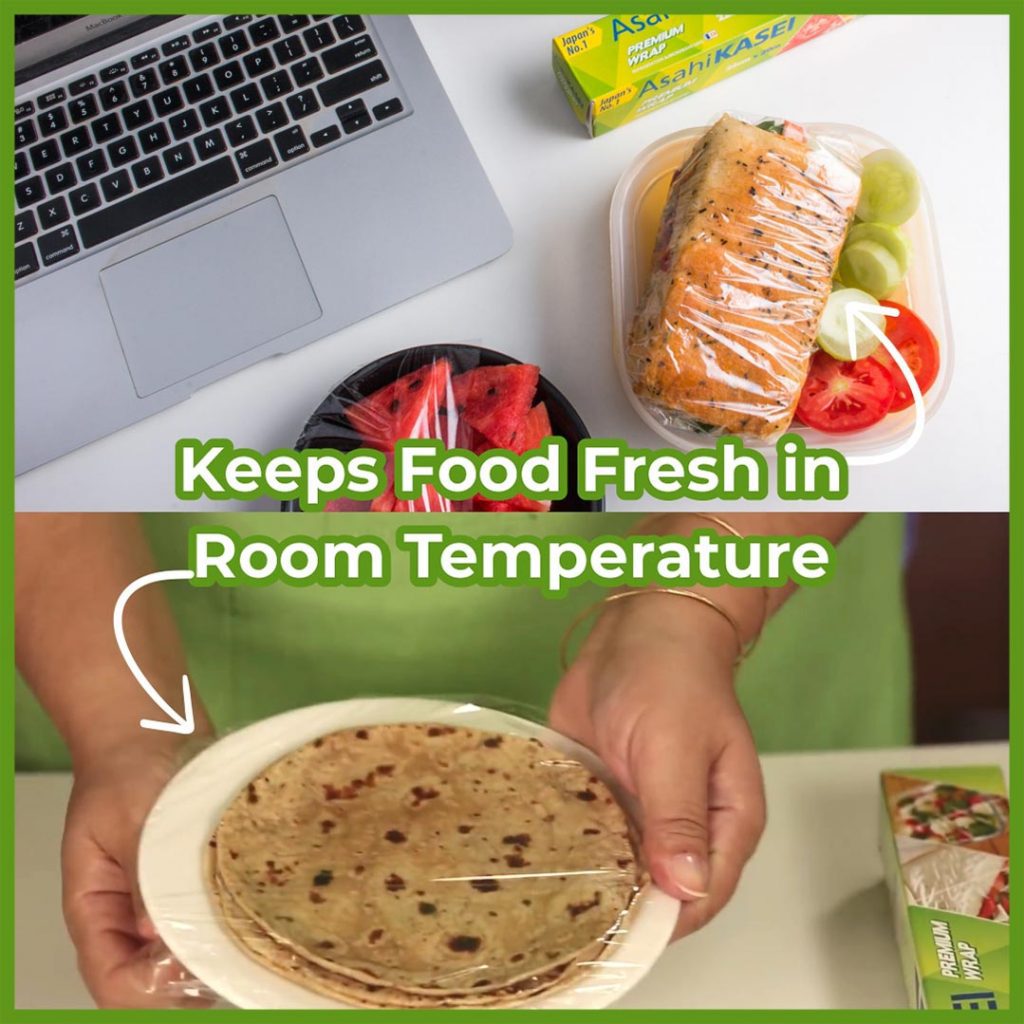 Cling wrap, also known as plastic wrap, is a thin, transparent film used for covering and storing food in the refrigerator or freezer. It is made of plastic and comes in a roll.
Asahi Kasei Cling wrap
The Asahi Kasei Premium Wrap is comprised of a clear and unique PVDC polymer that aids in food preservation and storage. It has a built-in cutter that makes it simple to tear and use. Keep everything sharp for an extended time, from fruits and veggies to prepared fresh cuisine.
Its Premium quality helps you keep food fresh in the fridge, freezer, and at room temperature, and it's heat resistant enough to use in a microwave up to 140°C. Not only that but the airtight seal and high barrier quality of the cling wrap inhibits scent even after hours and days in the wrap. These features have made Asahi Kasei premium wrap the best in the market.
Uses:
Covering bowls, plates, and other containers to keep food fresh Wrapping sandwiches and snacks for on-the-go Storing leftovers in the refrigerator or freezer Sealing ingredients to marinate or infuse flavors Protecting surfaces from spills and messes during food preparation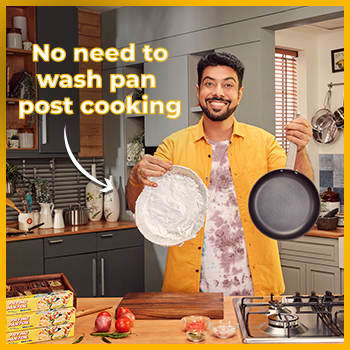 Frying pan foil, also known as parchment paper, is a type of paper that is used for lining baking sheets or pans to prevent food from sticking. It is heat-resistant and can be used in the oven.
Asahi Kasei Frying Pan Foil
The Asahi Kasei Frying Pan Foil is now available with its silicone-coated aluminum foil, so you can cook the same delicious cuisine with almost no oil. The silicone coating on one side of the aluminum foil prevents food from sticking even when cooked without oil.
The Frying Pan Foil helps to lower daily calorie intake by reducing the amount of oil consumed. There is no space for compromise regarding our favorite foods, but whether you enjoy an omelet, a paratha, or a pancake, preparing them using harmful cooking oils is a severe mistake. These foods are now healthier thanks to the Asahi Kasei Frying Pan Foil, which eliminates superfluous oil.
Uses:
Lining baking sheets or pans to prevent food from sticking
Covering food during baking to prevent over-browning
Wrapping food for steaming or grilling
Creating a makeshift pan or bowl for cooking or serving food
Protecting food from freezer burn when stored in the freezer
Creating a disposable lid for food storage containers
Lining the bottom of the oven to catch drips and spills
Rolling Pin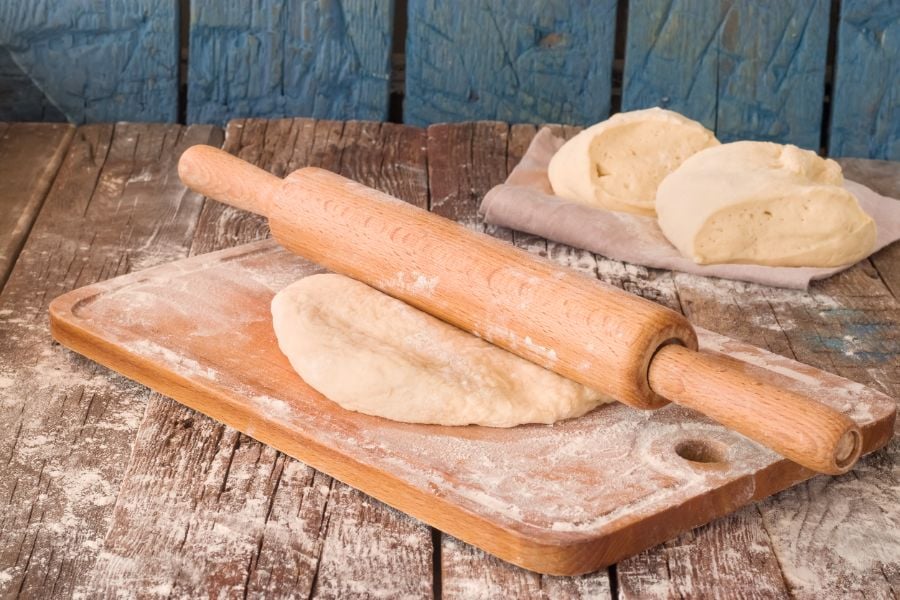 A rolling pin is a cylinder-shaped tool used for rolling out dough for chapati, naan, and other breads.
Uses:
Rolling out dough for chapati, naan, and other breads Crushing cookies, crackers, and nuts Tenderizing meat Decorating cookies and other baked goods
Oven Mitts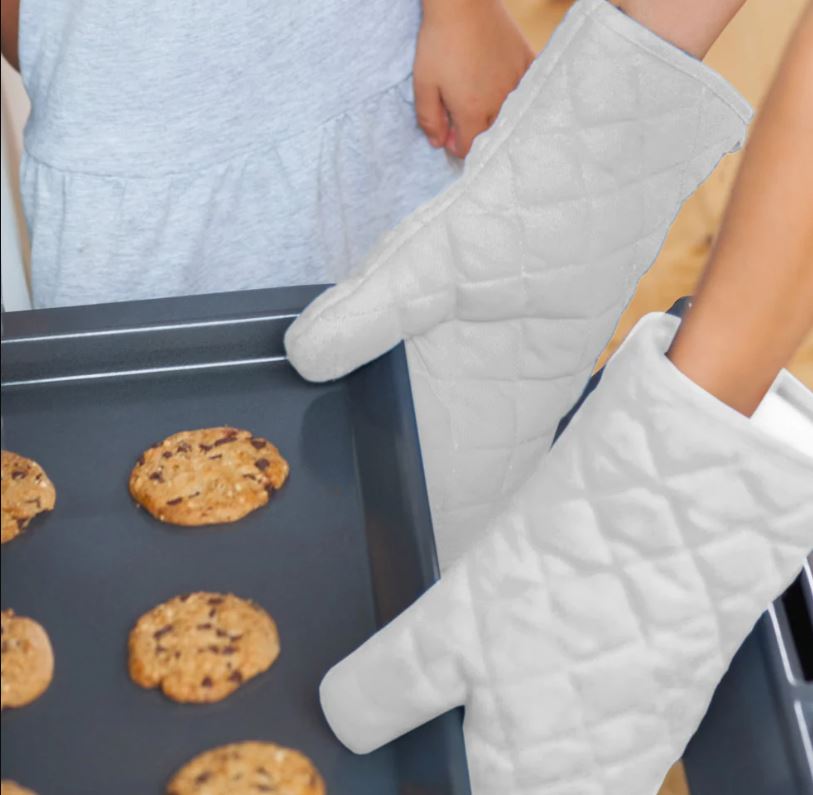 Oven mitts are insulated gloves used for handling hot pots and pans.
Uses:
Handling hot pots and pans Removing hot dishes from the oven Grilling or barbecuing Holding hot utensils
Wooden Spoons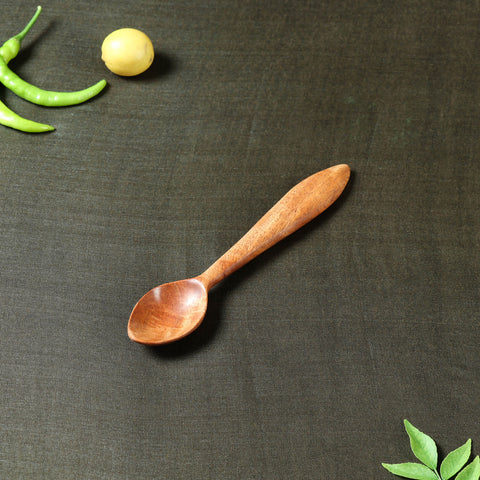 Wooden spoons are utensils made of wood and used for stirring and mixing ingredients.
Uses:
Stirring soups, stews, and sauces Mixing batter and dough Scraping the bottom of pans Tasting food
Spatula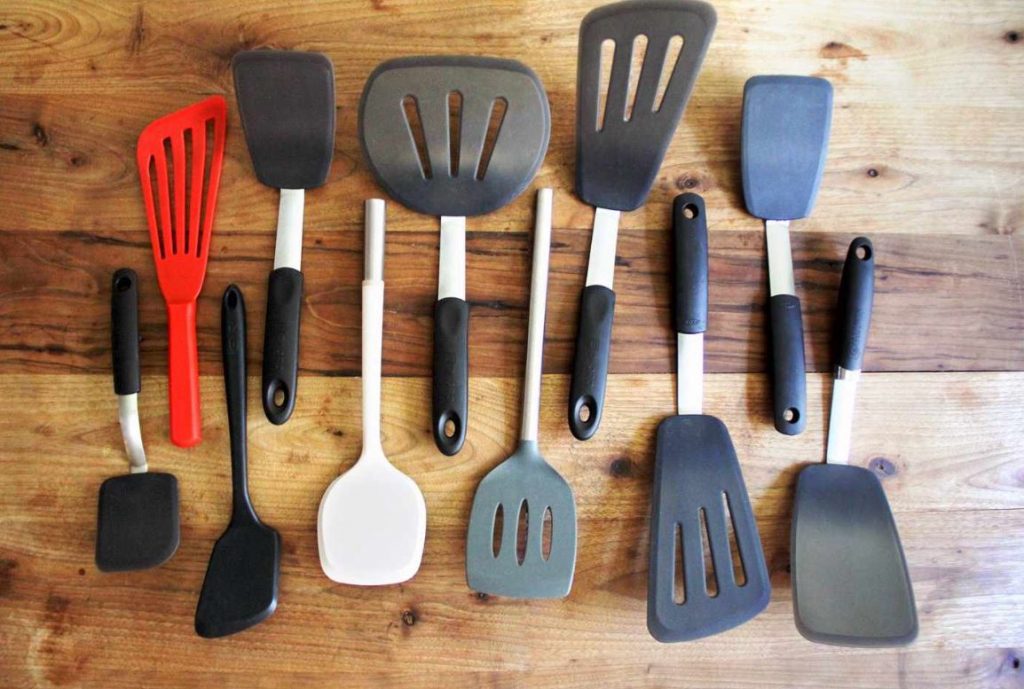 A spatula is a flat, flexible utensil used for flipping food, like pancakes or omelets.
Uses:
Flipping pancakes, omelets, and eggs Removing cookies and baked goods from baking sheets Serving cake and pie slices Scraping the bottom of pans
Tongs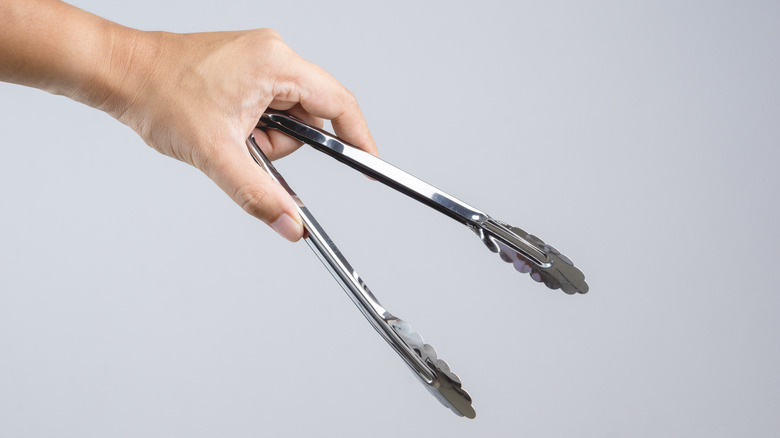 Tongs are utensils with two arms used for picking up and turning food, like meat or vegetables.
Uses:
Picking up and turning meat and vegetables Serving salads Tossing pasta Plating food
Asahi Kasei Zipper Bag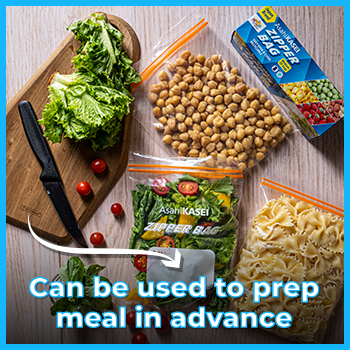 Nothing beats the pleasure of eating fresh and crisp food. The Ziplock Bag's Two Lines Zipper keeps your food fresher for longer, whether you're at home or on the go. The label space makes it simple and convenient to keep track of dates and arrange your food, which helps you keep track of your nutrition and reduce food waste.
The Zipper Bag can be kept frozen, refrigerated, or at room temperature, and can be defrosted in the microwave. Meal preparation is a terrific method to save time when you have a busy schedule. And getting ready with the Asahi Kasei Zipper Bag is easier than ever!
Ladle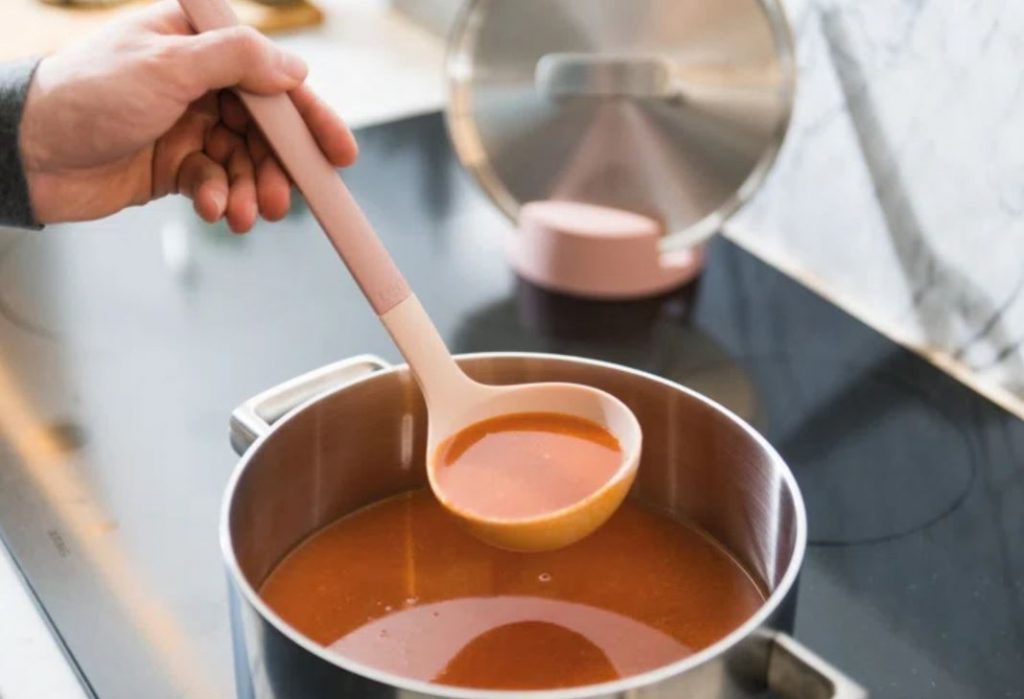 A ladle is a long-handled spoon with a deep bowl used for serving soups, stews, and sauces.
Uses:
Serving soups, stews, and sauces Portioning batter into a pan or muffin tin Scooping rice and grains Pouring broth or stock
Potato Masher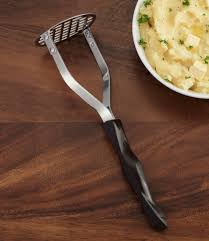 A potato masher is a tool used for mashing boiled potatoes and other vegetables.
Uses:
Mashing boiled potatoes Mashing sweet potatoes, carrots, and other vegetables Making mashed cauliflower Mashing avocados for guacamole
Whisk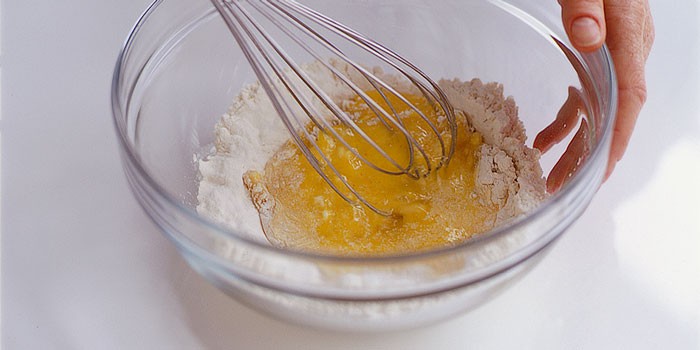 A whisk is a utensil used for whisking eggs and other ingredients for recipes.
Uses:
Whisking eggs and egg whites Whipping cream Mixing salad dressings Preparing pancake batter
Know more about kitchen essentials products & cooking items