Food Wrapping Papers
Aside from utensils and kitchen appliances, we require a variety of items to meet our everyday kitchen demands. Food wrapping paper is one such product.
Every kitchen has at least one food wrapping product, if you look around. Food wrapping papers are used to keep rotis, sandwiches, and other foods fresh for a long time.
Furthermore, it allows you to transport food wherever you want without taking up much space in your bag. Asahi Kasei is a premium manufacturer of food wrapping solutions. Asahi Kasei products represent the Japanese way to store, cook, and bake that is now being used in Indian kitchens.
These products have been used in Japan for over 50 years, proving their utility and quality. Asahi Kasei products will change the way you cook and store food, making your time in the kitchen more efficient, your cooking healthier and your storage solutions better. Furthermore, they will not burn a hole in your pocket! They are some of the most remarkable and reasonably priced food wrapping options available online. 
Asahi Kasei Products as
Food Wrapping Options for Indian Kitchen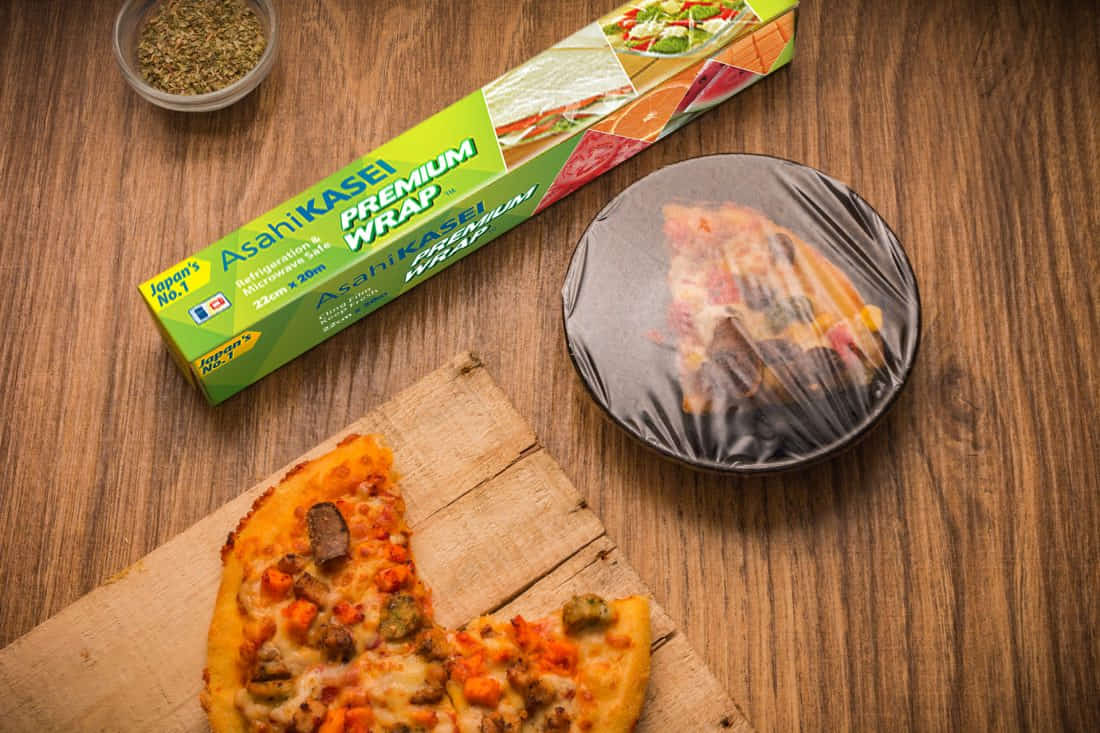 Use Asahi Kasei Premium Wrap for Food Wrapping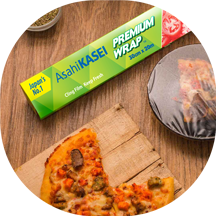 The Asahi Kasei Premium Wrap is a cling wrap. Cling wrap, also known as cling film and food plastic wrap is a thin plastic film commonly used for sealing and securing food items.
Asahi Kasei Premium Wrap is known for its premium quality material and food-grade material (PVDC), which prevents chemicals from entering your food, unlike regular cling wrap. Cling wraps maintain the freshness of foods for extended periods of time.
It does so by preventing the food from coming into direct contact with the oxygen in the air. It's ideal for fruits like oranges and apples because the plastic wrap can be pressed nice and tight against the exposed surfaces to keep them from oxidising. It is heat resistant and can be microwaved up to 140°C.
Cling wrap, unlike other types of food wrapping paper, are freezer-safe. You can also use the cling wrap to seal the top of each shelf and save time cleaning your fridge. These features have made Asahi Kasei premium wrap the best in the market.
Buy Food Wrapping Premium Wrap Online & Know more about this product on Big Basket
Use Asahi Kasei Frying Pan Foil for Food Wrapping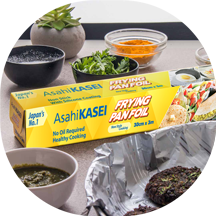 The Asahi Kasei Frying Pan Foil is a silicone-coated aluminium foil that can be utilised for a variety of applications. Its primary function is to allow us to cook tasty cuisine with almost no oil. The main reason we use oil when cooking on a frying pan is to keep the food from sticking to the pan's surface.
The silicone coating on one side of the foil solves this problem by preventing food from sticking even when cooked without oil. This minimises the amount of oil consumed, which aids in the reduction of our daily calorie intake. As a result, you can eat your favorite meals without sacrificing taste or health.
Aluminium foil is also great when it comes to wrapping food items. Aluminium foil provides a barrier property that prevents moisture, oxygen, and other odours from escaping.
This assists you in packaging your food and sealing in the odour. And since aluminium can resist high temperatures, it is an excellent material for food packaging.
Buy Food Wrapping Frying Pan Foil Online & Know more about this product on Big Basket
Use Asahi Kasei Zipper Bag as Reusable Food Wrapping / Storage Option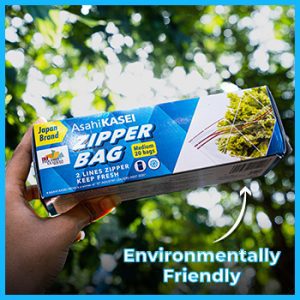 The easiest way to enjoy your food for longer is to keep it fresh, and one method is to store it in zipper bags. Zipper bags are one of the most common types of food storage bags, and they can be used to keep nearly anything in the fridge or freezer, including vegetables, fruits, meat, milk, snacks, and leftover food. These are plastic bags with a zipper-locked mouth made of PE plastic.
The Asahi Kasei Zipper Bag is widely recognised for keeping food fresh and edible for extended periods of time. It maintains the food's quality and nutrients while also making it easy to transport with an LPDE substance that is both biodegradable and non-toxic to your food.
The airtight containers also help to prevent mould and odours, as well as liquid leakage. It is chemical-free and does not contaminate the food's nutrient quality. The pandemic has surely taught us the value of time management and the usage of multi-functional gadgets to help us organise our lives. These LPDE zip lock bags are a recent innovation for a more organised and hassle-free experience.
Buy Food storage Zipper Bag Online & Know more about this product on Amazon
It also keeps our freezer and refrigerator shelves neat and tidy. It's no wonder, given its versatility, that this device can be found in the majority of kitchens.