Asahi Kasei Cooking Sheet Mobile
Butter Paper Sheets for Food Packaging & Baking
Removes the need to grease/oil baking pans before baking, reducing cleaning time and cost.

Does not affect the taste.

Reusable several times.

Line cookie sheets, cake pans, baking pans, lasagna dishes, and other similar items. Bake pizza, fish, and French fries in the oven.

Wrap cooked foods before reheating to keep them from drying out, or wrap paneer, meat patties, cutlets, and so on before storing them in the fridge to keep moisture in.

It is also useful for freezing foods such as burgers and bacon before placing them in a freezer bag to keep them fresh.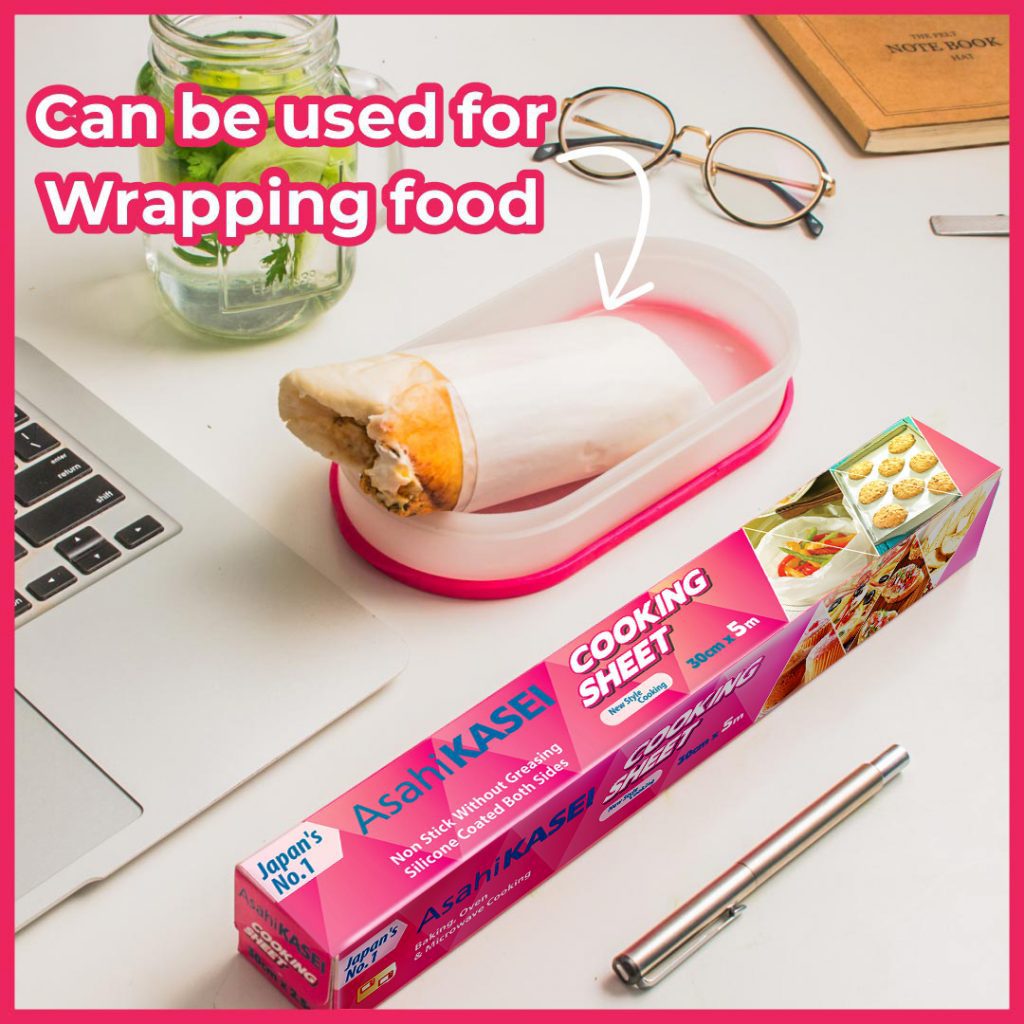 Multi Purpose Butter Paper Sheets
Butter Paper Roll for Food Packaging 
The butter paper roll is useful for packing foods such as lunch boxes, cookies, fruits, and a variety of other foods. The butter paper sheet is an excellent item for food packaging because it helps to keep dust and insects away from the food. To make a packet, wrap cookies in paper used for baking and tie them with a baker's knot.
Packing Butter with a Butter Paper Sheet
As the name implies, a butter paper sheet can be used to pack butter and margarine. The good news is that butter paper keeps both of these items in good shape.
Use Butter Paper Sheet for Simple cleanup after cookie decorating
 Before frosting and decorating cookies, lay down a butter paper roll for food packaging, take a butter paper sheet from it, place it on your kitchen counter, and there you have it: a cleaner and more efficient place to cook food. Finally, you can sweep up all of the sprinkles and debris quickly and easily and dispose of them safely.
Transferring cookies to and from a baking sheet
If your baking pan is lined with butter paper, you can easily slide the entire tray of cookies right onto your cooling rack after they come out of the oven.
Using Butter Paper to prevent cracking and breaking of baked goods
Butter Paper Roll is the ideal wrapper for baked goods. By using Butter Paper for packaging, you can provide secure packaging for your baked goods, preventing crumbling or breaking.
To protect your chopping board, use Butter Paper
When preparing, chopping, and cutting food items such as fish, raw meat, onion, chilly, or beetroot, or when packaging and wrapping fatty and moist food, like when going on a picnic, Butter Paper Roll can be used.